Save money (LOTS) with Startup Pack
Yeah you heard this, Startup Pack is offering 1000 free packs that gives you access to all the providers your startup needs to operate. I've seen this idea before, both with AppSumo (Good advice on the deal business by the way) and f6s deals page, but hey, never before it was so cost effective to start an online business! Check out the deals they have at Startup Pack:
Zendesk: to manage customer support – 12 months for free
Box: to share files online – 12 months for free for 3 users
Mailjet: to send transactional emails – 12 months for free
TextMaster: to translate all your documents – 10,000 credits for free
Twilio: to bring voice and messaging to your web – $134 for free
Engine Yard: to host your website – $500 for free
Mixpanel: to analyze your website – 12 months for free
Mention: to monitor your brand – 12 months for free for 3 users
Pressking: to distribute your press release – 1,000 credits for free
HotGloo: to collaborate on design – 12 months for free
Fotolia: to get beautiful pictures – 60 images XL for free
The Resumator: to hire with confidence – 12 months for free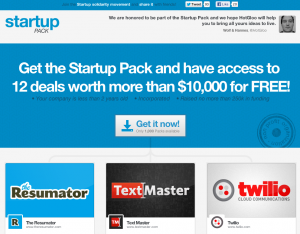 It would be cool to add one there for idea validation tools so that we start getting more quality and unique startups 😛 Maybe the Startup Pack guys should talk with Rob from StartupToolkit? 😉
Either way, there you go, free treat of the week! 😀 Thanks Matt!