Yesterday I had one of those surprises that make your day. I had a package waiting for me at the post office. When I saw the senders address my heart skipped a beat. It was from Portugal, from a design studio called Oupas! Design. I'll talk about them below, but for now, this is what  I got: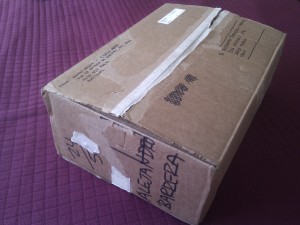 Boxie with my name on it!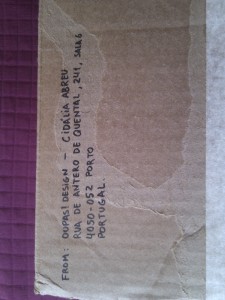 Oupas! Design name on it can only mean good stuff!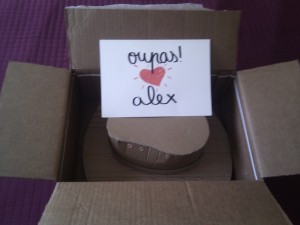 At this point I didn't care what was in the box. They totally win me with this!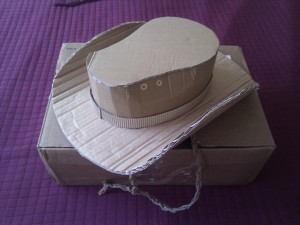 I was to fast on my judgement. OMFG! THAT IS MY HAT!! Or even better, an ecological version of it!!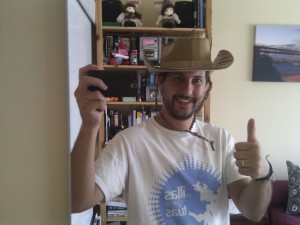 And it totally fits!!
Come on, how bad ass is that??! I'm remembering the story I told about Orchids in the previous 42 Beers and how it had generated massive impact. Well, yesterday I felt it personally. So here is the story of Oupas! Design.
I met them several months ago on my first trip to Porto and then we met again at Lisbon in January. To be honest, the first time, I didn't realize that the three cute girls that approached me at the end of my talk where running one the most amazing design studios I know.
It was in January, during the Sandbox Global Summit that I realized that, Oupas! Design aka Sofia, Joana & Cidália, where the ones that designed all the incredible logos, posters and furniture of the Summit. All made out of cardboard! Not only that, they also ran, during the summit, several workshops on how to build things out of cardboard, including pirate hats and props.
Being a natural of hats, specially my beloved cowboy hat, I was jealous. I wanted a cardboard version of my hat and so I told them! Anyone that knows me, should have guessed by now, I was joking! I remember they looked at me very seriously and they told me, don't worry, you'll get it! I really thought they where playing along, but oh boy I was so wrong!
Their story is an incredible one. Straight out of college in Porto, they went directly to their school's incubation program to get help to start their studio idea. After 1 year, they launched and they've been succeeding ever since. I don't have words to describe how proud I feel about them, even though I had nothing to do with their success, tears come to my eyes when I see such passion, such devotion and above all, such happiness for what they do. I recommend you to follow them on Facebook because it's hilarious to read their stuff and it definitely makes my days happier. Of course, this wouldn't be a complete post if I didn't give some credit to their cat, Tobias. Such a poor soul, always has to cope with the 3 crazy girls and it's the target for more than one prank 😛
All in all, if you're looking for a really creative design studio, either for a specific project or a conference or literally anything that has to do with designing incredible products, you should definitely contact them! They already won me over in Lisbon, but my new hat just made me adore them.
THIS is customer loyalty, THIS is caring about your people, THIS is branding and THIS is what having a great company is all about.
THANK YOU VERY MUCH girls!!!