Yesterday I had the chance to watch half of the startup competition pitches at LeWeb. I really don't want people to get offended but some of the presentations where rather weak. Having judges like David Hornik from August Capital and failing to talk about your business model or what problem you are solving isn't acceptable. To be honest, I'm not into the whole SOLOMO thing (Social-Local-Mobile). I thing its just the fud word. I really care about startups fixing real problems, the bigger the better. That being said, this are the startups we saw yesterday: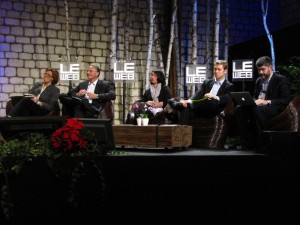 So that was all for the day. All in all, some interesting startups but not impressed at all. I was expecting a lot more from the Startup competition. I'm still missing real groundbreaking startups. We seriously need to start thinking big in the startup world. I'm not the only one saying this and I'm sure I won't be the last one.
As I promised on of my collegues at the LeWeb official bloggers delegation, yesterday's picks would be Bableverse (hands down) and Flagfriend if they probe to know how to acquire big chunks of users. I do like compath.me too, but it really escapes my market knowledge. ust to support my point, I just got this Twitter analysis and it seems I'm dead on who was yesterday's winner.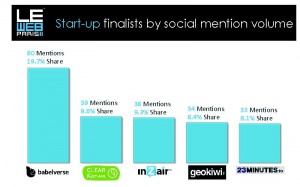 So, lets see how it fares for the reminding startups and lets see if I manage to pick the winners before the jury does it 😉