I have always been skeptical about crowd-funding when it comes to startups, and I'm not sure why exactly.  I think I've always thought of it as being a messy and fragmented way of finding seed money. But when I think about it, my reaction to crowd-funding tells me that actually this is a really disruptive way to think about fundraising, which is pretty amazing. And then that is all completely turned on its head when I'm told that crowd-funding isn't even really about money – it's about PR.
In order to see both sides, I chatted to crowd-funding enthusiast and marketing guy Danilo Sierra over a game of ping pong at the RallyPad office in Berlin. He gave me his top tips for running a successful crowd-funding campaign, and told me about his friend Alvaro Salas who raised $100k through Rally.org to fund his education at Cornell University. Not a startup, sure, but super inspiring stuff nonetheless.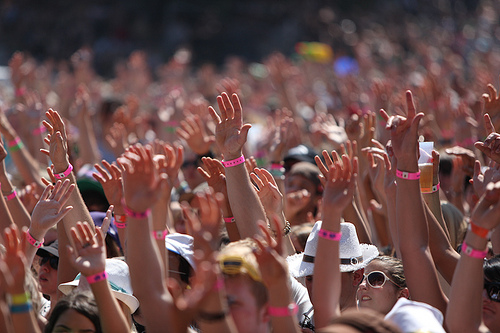 The most important thing Danilo told me that I hadn't realized before is that crowd-funding is not necessarily about raising money: it's about connecting with your audience and building a community. You have the chance to tell the world your story and let them know why they should support your project.
Your campaign needs to communicate to your audience that you are doing something amazing – that you are going to change the world, and you want to give them a chance to support you from the very beginning. Danilo told me as he served a particularly gnarly shot across the table that contributing to a campaign should inspire an emotional response. It's great to offer incentives for your followers but the main reason they are getting on board is to support you and your cause.
Crowd-funding is not easy money.
It's a hard road to take, and in many ways you would have an easier time just looking for an investor. As Danilo said, you have to tell your story and explain your product, and then you have to tell your story again and explain your product again, on and on until that becomes the only thing that ever comes out of your mouth.
Crowd-funding needs to be really personal in order to work – you need to be constantly talking to everyone in your community, calling on your whole network and being seen. It's not enough to just make the campaign page, tweet about it and wait for the money to pour in. You have to be constantly chasing the buck which for many people is not an easy thing to do. Remember that before you start: you are going to be asking people for money. Not investors: people. Your mum. Your old high school buddies. That guy you keep seeing at networking breakfasts. If you can't deal with that, then write up your business plan and go for VC.
Danilo's next big tip was transparency.
It is important to let people know exactly what you intend to do with their money and how you are progressing. People won't be so keen to help you out and support your campaign if they can't see exactly what you are spending their money on. Keeping in touch with your followers is a really important way of doing this – posting regular updates, showing them what you've been building and giving them a dollar by dollar breakdown of what the money is for. And of course you should be realistic about your campaign. Figure out exactly how much you need and ask for just that. Don't assume your campaign is going to go the way of the Pebble Watch. Aim for 100 per cent funding, not 1000 per cent.
The huge benefit of fundraising via crowd-funding is the community you will build as you go. Once your campaign is over and you have your money and you are taking the next steps with your project, you will have this ready made audience of people watching you expectantly, supporting your ideas and wanting you to succeed. They have been given the chance to back an idea that they think is a good one – yours. And that seems like a pretty good motivational tool to me.