With few days for LeWeb Paris, I wanted to introduce you to this year's startups selected for the official competition. We tend to cover this event every year but this time is specially interesting for the novelty of the theme, Internet of Things (IoT), which makes the competition much more interesting and futuristic. I'm guessing we're all so tired of social local mobile (SoLoMo) that this is a breath of fresh air.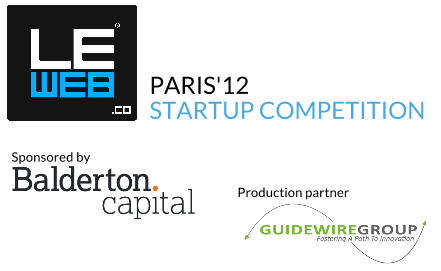 Agents of Presence: They merry design with new technologies, like leds and body sensors to create stunning designs like this dress for SXSW.
Alleantia: Definitely not the most sexy of  the bunch. Italian company providing plug & play devices to manage and control industrial devices via web (html5). Mostly oriented to photo voltaic plants. I must say, having the web in Italian by default is plainly stupid.
Jini: Interesting concept by the Belgian squad. Jini tracks, through sensors, all you do in your day to day and recommends you stuff to do when you're looking for something new to do. If it actually works, this could be very cool.
Biletu: Not sure what they do. Seems like a collective paying up for events like parties, etc. Not sure where the Internet of Things comes in here.
GreenMomit: In true Spanish fashion, the web is only in Spanish. The have two products an intelligent WiFi thermostat and a SaaS control center.
Intoino: This is a really cool idea that reminds me of Twine. It allows you to control your Arduino board through a drag & drop mobile app. Reminds me of IFTTT for Arduino.
Kwiqly: You connect your energy consumption data (not sure how yet) and they tell you where you're throwing your money away. Horrible name by the way.
Lhings: Seems they're building a cloud service to control and manage all your physical devices that speak with the Internet. You can't really understand this from their web though.
Touchalize: This is a very neat idea, they build a personalizing layer on top of videos, allowing for real-time changes and interactions with the video content. Now, I want to see this for real.
Qunb: Not sure why this qualifies as IoT but it's a very neat app badly needed. They normalize and make sense of all the data that's out there so you can use it, graph it or compare it anyway you want. This is a blessing for journalists.
Re.co: Errr, another recommendation app?
Snapeous: Add digital content associated with a QR code or a bar code. Not really sure this makes any sense though…
Ujoolt: Foursquare meets Twitter? Really? … no comment.
wiMAN: An open version of Fon, that allows to share your wifi with your customers in a very easy way and keep track of who is using it as it requires signin in through social services. I wonder if people are so desperate for Internet that they'll sign with their Facebook accounts. Neat idea if it works though.
Mysollars: Virtual currency in exchange for good deeds that reduce your CO2 footprint. Another way of donating for sustainable projects.
All in all, after reviewing all the startups, I'm not terrible impressed. I'm actually quite disappointed we aren't seeing cooler projects. Hopefully the presentations will be much better than their websites. Good luck to all the participants and as always, remember that the one with the bigger WOW will be the winner 😉