As every year, we're gearing for the last sprint of the year, December and with Christmas down the horizon, it's a tradition to talk about this years LeWeb edition. I'm very excited about it this year, specially for the theme Löic and Geraldine have chosen: The Internet Of Things. As I recently wrote at The Kernel, the vertical is getting a major boost everywhere and it's coming out of its infancy and doing its first teenager steps.
During the last month I've been getting the same question: Which conference is a must that we should attend before the end of the year? For me it's clearly LeWeb Paris. Maybe it's for sentimental reasons but I love the conference. Even if it's turned into this massive event with thousands of people, I still get a plenty of value out of it. It's the one time of the year where the US and EU meet, which I think is one of the biggest assets of the conference.
Speaking of which, I just ran some numbers on the participant list (1569 at the moment) and draw this nice graph: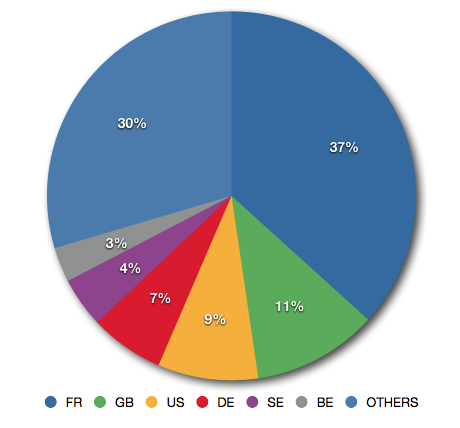 Surprisingly, this year there are 16 Spaniards going, a little higher than last year, which is a good sign. I'm surprise by the lack of participation of other countries, Ireland has only 35 people coming compared to the 172 from UK. Easter Europe is literally non existant at the conference, there are 16 Russians, 12 Polish, 9 Ukrainians, 2 Romanians, 1 Hungarian. What's up guys?! Also, to prove my point from my last trip to Greece, there are only 2 Greeks attending the conference.
As every year, the list of speakers is impressive, ranging from classics like Phil from Evernote, Mike from Techcrunch EU, Om from GigaOm, Robert Scoble from Rackspace all the way to more Internet of Things guys like Phil Bosua from Lifx (Wifi enabled lightbulb), Tony Fadel from Nest Labs (SmartThermostat) or Gil Blander from InsiderTrack (monitor your health). Check the whole list of speakers here.
As I said before, it's a must see event for anyone in technology, specially for those in startups or investment so get your ticket and come and going one of the most exciting editions of LeWeb. I'm personally really looking forward to it!